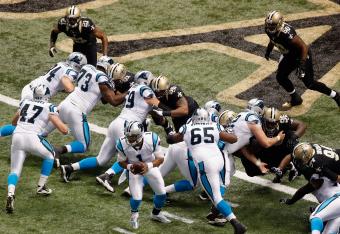 Anyone actually remember the last time a Saints/Panthers match held playoff implications for BOTH teams? There have been a few times where one or the other have their eyes set on the playoffs, only to have the other team spoil it, but nothing of this magnitude, at least not in the NFC South era.
The NFL was right to flex this game to Sunday Night, after all, Green Bay/Atlanta is virtually meaningless now that Green Bay is finding themselves out of the playoff hunt (and Atlanta has been for at least four weeks).  Besides, the entire NFC will be watching this game, as it could set up so many scenarios.  A Carolina victory gives them an inside track to the 2-seed as they have a relatively easy remaining schedule the rest of the way (outside a Saints rematch just two weeks later – they draw Jets/Falcons).  New Orleans has a slightly more difficult schedule, if that means anything, as they have a fiery Rams team that has gained some steam as of late and Tampa Bay.  In other words, Carolina is sitting pretty well if they lose this, as they'll have another shot and a lighter schedule, New Orleans has to survive St. Louis in order to make a second shot worth it.
But let's forget about all that and focus on these rankings.
Oh, and Kubiak gone y'all. Kubiak gone.
RK (LW)
Team
Record
Next Game
1 ()
Seattle Seahawks
11-1
@SF – Most balanced team in the league, this season that's enough to catapult you to the top. Can't take anything away from Seattle though, they will be hard to beat at home.
2 ()
Carolina Panthers
9-3
@ NO (SNF) – Not as balanced as Seattle, but good enough to be dangerous.
3 ()
New England Patriots
9-3
vs CLE – We were foolish to ever doubt Tom Brady, amazing how well he's able to bond with new WRs year after year.
4 ()
Denver Broncos
10-2
vs TEN – Just like last year, I think we should be weary of them come playoff time. Can Peyton's reconstructed body hold up in the elements? Has age caught up to him? Am I going to keep asking questions like this is an old Rocky and Bullwinkle cartoon?
5 ()
New Orleans Saints
9-3
vs CAR (SNF) – Saints keep getting national game after national game. They have a lot to prove on Sunday, luckily they're at home.
6 ()
San Francisco 49ers
8-4
vs SEA – They have the potential to turn this thing on and up. Crabtree's return could bring back their vertical game.
7 ()
Philadelphia Eagles
7-5
vs DET – I hate to use the cliched "they're getting hot at the right time"
8 ()
Detroit Lions
7-5
@ PHI – This defense needs to figure out how to actually stop somebody. Matthew Stafford also needs to learn how to be Brett Favre….the good Brett Favre, not the "there are 5 guys there, throw it anyway" Favre.
9 ()
Dallas Cowboys
7-5
@ CHI (MNF) – Playcalling and defense are the two things that will eventually hold this team back.
10 ()
Kansas City Chiefs
9-3
@ WAS – Not surprised they lost three straight, considering their opponents, doesn't mean they're awful, just means their 9-0 record was a little inflated. Still a solid team.
11 ()
Cincinnati Bengals
8-4
vs IND – Another team that could REALLY be great with one little thing holding them back….Andy Dalton
12 ()
Arizona Cardinals
7-5
vs STL – Their offense may have found their groove a little too late, too many losses with a pretty tough schedule to go.
13 ()
Indianapolis Colts
8-4
@ CIN – No running game, they'll get exposed pretty quickly come postseason.
14 ()
Miami Dolphins
6-6
@ PIT – Congratulations guys, you did it, you finally did it. Ryan Tannehill is now the only person on your offense worth half a damn
15 ()
St. Louis Rams
5-7
@ ARI – I mean seriously guys, if Kellen Clemens wasn't their QB they would probably be making a SERIOUS playoff push.
16 ()
Chicago Bears
6-6
vs DAL (MNF) – Josh McCown is running this system pretty well, maybe a prototype QB for Trestman's offense (hinthintdrafthinthint)
17 ()
Baltimore Ravens
6-6
vs MIN – Inconsistent.
18 ()
New York Giants
5-7
@ SD – Really would have loved to see them make the full turnaround. Mathematically they still can, realistically, they won't.
19 ()
San Diego Chargers
5-7
vs NYG – This team is still a defense away from being legit. Mike McCoy has turned the offense around into something to be reckoned with.
20 ()
Tennessee Titans
5-7
@ DEN – Another young team that has potential for the next couple of years. May need another coach to bring it out.
21 ()
Pittsburgh Steelers
5-7
vs MIA – Sideline gate cost Tomlin money, however, the team should not lose a draft pick. Glad they didn't.
22 ()
New York Jets
5-7
vs OAK – Matt Simms doesn't need to start for this team. Geno is their future, they need to continue to roll with him.
23 ()
Green Bay Packers
5-6-1
vs ATL – "Without Rodgers, we're worse than Jacksonville" – A Packer-fan friend of mine. Not entirely accurate, but close.
24 ()
Jacksonville Jaguars
4-9
W – THU vs HOU – Won four of their last five, still in the playoff hunt. Someone give Gus Bradley a high-five
25 ()
Minnesota Vikings
3-8-1
@ BAL – Keep Cassel in.
26 ()
Oakland Raiders
4-8
@ NYJ – Team can't finish games. Reflection of the youth in their players and coaching staff.
27 ()
Cleveland Browns
4-8
@ NE – Campbell might be back this week, he needs to play well to maintain a job with Cleveland next year (as a backup)
28 ()
Tampa Bay Buccaneers
3-9
vs BUF – Another team making the turnaround, the final four games will tell us Schiano's fate.
29 ()
Atlanta Falcons
3-9
@ GB This is how you learn what your team is really made of. Chance to finish the season on a strong note and right the wrong that is this season.
30 ()
Buffalo Bills
4-8
@ TB – Embarrassing OT loss last week. Really can't pinpoint what is actually wrong with this team.
31 ()
Washington Redskins
3-9
vs KC – LOL. Train. Wreck.
32 ()
Houston Texans
2-11
L @ JAC (THU) – Poor Kubiak. Poor, poor Kubiak.
WEEK 14 PICKS:
Daniel: Houston, Cincinnati, Atlanta, New England, New York Jets, Eagles, Pittsburgh, Buffalo, Kansas City, Baltimore, Denver, Arizona, Giants, Seattle, New Orleans, Chicago
Ryan: Houston, Cincinnati, New England, Oakland, Kansas City, Baltimore, Atlanta, Buffalo, Pittsburgh, Philadelphia, Denver, Arizona, Seattle, Chargers, Panthers, Dallas